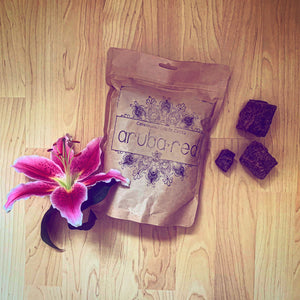 450g block of Ecuadorian Ceremonial Grade Cacao, lovingly prepared and sealed in hand stamped eco-packaging.
We are so excited about this collaboration between Aruba Red and Cacao Love. Floral, energising and euphoric. This variety is well suited for ecstatic dance, nature walks and erotic explorations with oneself or another! 

Chocolate in its most natural, nutritious and delicious form. Revered for over 5,000 years, this heirloom cacao is a truly ancient variety of sacred plant medicine, harvested with love by indigenous Quechua families in the Amazonian region of Tena. We are honoured to be entrusted as the guardians of this cacao harvest as this cacao leaves the forest for the very first time.
Go ahead and take a breath! This variety is known as 'Arriba Nacional del Fino Aroma' and its 'fine aroma' immediately opens the senses! Harvested from 50 year old trees, this medicine bears the gift of naturally occurring variance in texture, or 'grumos,' as the grains, ripples and nibbles that swirl through the block are lovingly referred to in the forest.  

From seed to ceremony, our collaborators Cacao Love, only work with indigenous communities, organic co-operatives, and family-run businesses, while investing upwards of 40% of profits back into indigenous community projects.
Customers will receive a guide on how best to prepare and enjoy your Cacao.