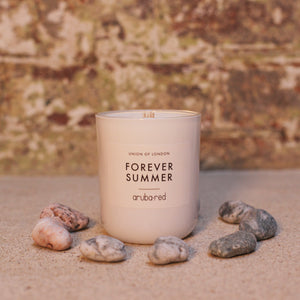 A warm and relaxing scent of earthy freshly picked fig reminiscent of Summer.The hand poured soy wax candle uses quality fragrances and essential oils for a clean burn. The wide cotton wick creates a broad flame, generating a great scent throw and an even pool of wax ensuring that you can burn it right to the end. Hand poured into a minimalist high quality glass votive it can be reused as a night light holder. Packaged in a simple white branded box it makes an ideal gift.
Weight: 500g, 6.5oz
Size: H8.8cm x W7.5cm
Material: Soy Wax
Burn Time: +25hrs
Care: Keep wick trimmed
Votive: Gloss white glass
Origin: UK
Free from: Petroleum, Phthalates & Preservatives
"I am so excited about being able to offer these gorgeous natural candles. When I became pregnant with my little boy I started researching indoor air pollution and was saddened to learn about the impact of this in our homes. I said goodbye to all my scented candles but really missed the comforting glow. The ritualistic energy of lighting the little flame was something I wanted to keep as an important part of my life. This collaboration offers a completely non-toxic alternative that smells absolutely beautiful" Aruba Red.