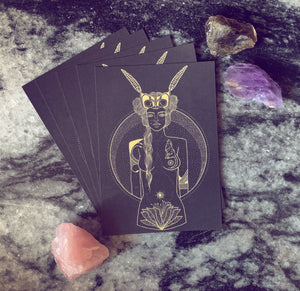 Buy a set of 5 postcards for a special price of £4.44.

Introducing the Wild Woman postcard, beautifully illustrated by Brazilian artist Ododua Aum as a special collaboration with Aruba Red, capturing the spirit of she who howls at the moon! Printed on 100% recycled card.

Receive a Wild Woman postcard as a complimentary free gift with every purchase of a candle, box of incense, CD or ritual kit.